KYOTO CHOREOGRAPHY AWARD 2022
-Dance performance by young choreographers & discussion around their works
【English Information】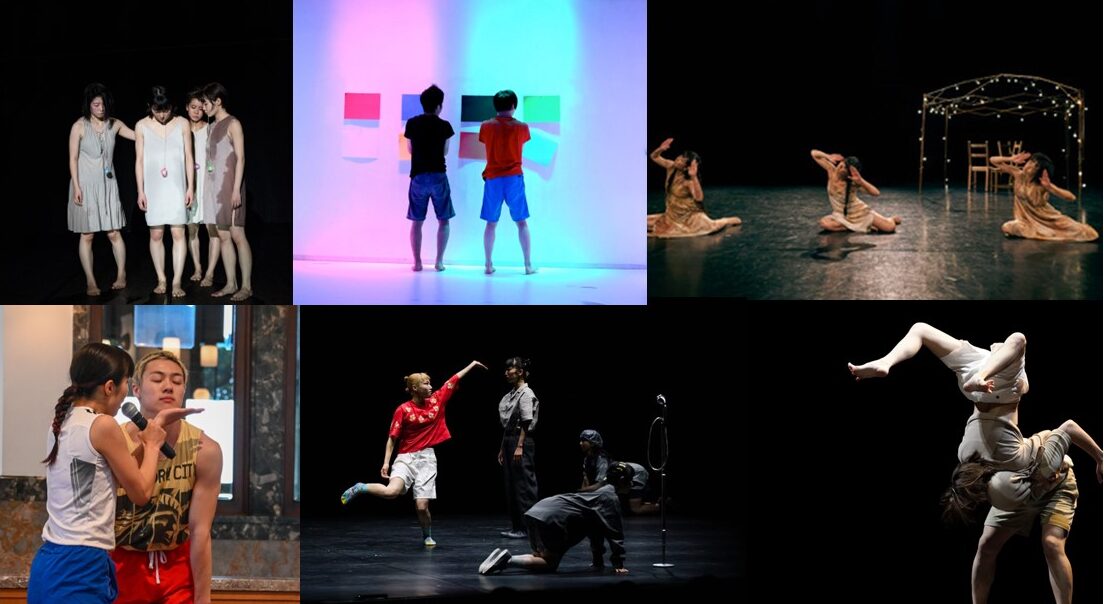 2023.1.28 [Sat]
Start at 6:00pm (End 9:00pm)
2023.1.29 [Sun]
Start at 3:00pm (End 6:00pm)
*Doors open 30min prior to the performance
*Duration: 105 minutes for performance & 60 minutes for discussion
*Announcement of winners on 29th at 7:30pm (will be live streaming)
Venue:Kyoto Prefectural Citizen's Hall ALTI
(590-1,Tatsumae-cho, Kamigyo-ku, Kyoto)

Tickets:
Prices from/ 3,000yen (advanced ticket)
Discount for U25 and disabled: 2,000yen
Discount for High school students and younger: 1,000yen (for each day)
2-days pass: 5,000yen (advanced tickets only)
*500 yen more at the door
*One caregiver is also charged at the same rate for persons with disabilities.
Online Ticket/ 2,000yen for a day / 3,000yen for 2-days

Ticket handling/ https://choreographers.jcdn.org/reservepost


Choreographer and Program 
* Name of choreographer and group, base of activity, and title
2023.1.28 [Sat] 6:00pm
Kanae Kamegashira / tantan (Tokyo) "Love and Sincerity."
Kana Ikegaya, Kohei Fujimura (Niigata, Kanagawa) "Object a"
Rion Onaya (Saitama) "Epicenter"
2023.1.29 [Sun] 3:00pm
Aokid × TAKUMICHAN (Tokyo, Kanagawa) "HUMAN/human"
Reina Okada, Yu Kuroda / Null (Tokyo) "Own Own"
Yoko Omori (Tokyo) "Help"
*Each discussion will be held after each of the three performances on both days.
*The order of performances will be announced as soon as it is fixed.
The "KYOTO CHOREOGRAPHY AWARD" was established in 2020 as a new program of "Dance it is !!", a project to foster choreographers of contemporary dance. The award is intended to be the next step for choreographers by providing an opportunity for them to present their work, receive an award, and discuss their work with an audience. Producers, critics, and experts in various fields of the dance world are invited to serve as jurors to determine the Kyoto Prize, Encouragement Prize, and Best Dancer Prize, and other awards. Each award is intended to encourage not only the perfection and attractiveness of the piece, but also expectations for the choreographer's future. In 2022, six groups have been selected through a screening process from among 39 groups that applied from all over Japan, and will perform for two days at Kyoto Prefectural Citizen's Hall ALTI. There will be a discussion after the three performances on each day, and the awarding ceremony for each prize will be held on the evening of the second day. Online live-streaming and audience voting for the audience prize will also be available. Please take a look!
About online live-streaming & audience voting
Your vote will open the way for future choreographers!
The performance will be live-streamed (with charge), and the audience vote will determine the audience prize. 50% of the proceeds from tickets and online viewing will be distributed to the performing groups according to the number of votes from the audience. Each person visiting the Kyoto Prefectural Hall ALTI is allowed to cast one vote in the audience voting.
Choreographers and Programs
■ Kanae Kamegashira / tantan (Tokyo) "Love and Sincerity."
Composition, Direction, Choreography: Kanae Kamegashira
Performance: Kanae Kamegashira, Mei Sasaki, Fuu Yoshizawa
The world is not perfect. But can you still love me?
I learned this from a book I read.
"Everything is finite and imperfect. I am not perfect, you are not perfect, and neither is the world. You have to allow it to be."
This made me realize that love and sincerity are not about appearances, but about doing the best I can with what I have.
I want to live one day at a time with care and integrity.

■ Kana Ikegaya, Kouhei Fujimura (Niigata, Kanagawa) "Object a"
Composition, Direction, Choreography, Performance: Kana Ikegaya, Kohei Fujimura

When the body is divided by the signifiant, there remains "something that drives us" in the cracks
When our bodies are divided by language, objects, gaze, gestures, and other signifiers, the "inexpressible thing that drives us" that remains in the cracks is considered "object a" and our aim is to investigate how it restructures the body as a " dancing body". The character of dance, which ceases to exist as soon as it is formed, forever destroys the dimension of "I" that is the essence of human existence, forever one step beyond our gaze.

■ Rion Onaya (Saitama) "Epicenter"
Composition, Direction, Choreography: Rion Onaya
Performance: Rie Kato, Mano Hatanaka, Yu Otsuki, Rion Onaya
The shake of March 11 still remains in my heart.
Vague outlines sometimes fuse, sometimes repel, but choose to be there.
It's been a little over ten and a half years since the great earthquake in Tohoku. The shaking from that day, however, still remains in my heart.
We've tidied up things and put them away so nicely and efficiently it's almost astonishing to watch.
We are able to gather the little pieces that have broken off from there, and get a brief yet confirmative glimpse.
Should the shaking also be removed and put away?
The way I see it, the living things in nature, from plants to humans, even the earth itself, are shaking in their boots, barely able to stay where they stand.
At times, the silhouettes of things, shaking and all, fuse together, while other times, they repel.
"Ah, I should have told her that day." "No, I shouldn't have told him that day."
■ Aokid × TAKUMICHAN (Tokyo, Kanagawa) "HUMAN/human"
Composition, Choreography, Direction, Performance: Aokid, TAKUMICHAN
Two bodies and the ground, paper, video, sound, instruments. We intersect, at this time! Let's play with more than two!
The space reminiscent of a white cube.
Besides the body, paper, string, tape, and images appear.
The bodies and spaces used are piled up to form a dancing body.
As counting begins with two or more, addition and subtraction in space, as well as multiplication, are literally performed by the body.
We move things, and things move us, creating music and images, and we are created by music and images.
This is how this duet piece is made.
■ Reina Okada, Yu Kuroda / Null (Tokyo) "Own Own"
Composition, Direction, Choreography, Performance: Reina Okada, Yu Kuroda
It is one stage above the others, made up of 1 and 1 combined like 2.
To be there, a partner is essential.
The word "dismay" in Japanese has its origin in the relationship between two wolves who have faults with each other and always work together in support of each other.
Initially, the word "support each other" may seem warm and caring.
However, it is a relationship in which both parties support the other because of their own faults. They are not just supporting each other for the sake of the other.
In this action, there is an unconscious presence of one's own greed, which is just not visible.
However, the relationship is still one of "mutual" support.
■ Yoko Omori (Tokyo) "Help"
Choreography, Composition, Direction, Music: Yoko Omori
Performance: Hazuki Iizuka, Kotoe Ikeda, Yoko Omori, Asahi Kohno, Honoka Tamura, Kazuki Yagihashi, Yoshika Yanagiya
The negative emotion changes its form and becomes a "dog" and dance.
Dancing just to be saved.
This piece is about "dogs" and "just wanting to be saved".
I am a helpless person who cannot live without depending on people, objects, and other things.
When those things I depended on have gone far away, I was terribly desperate, and I felt like I just wanted to be saved.
I also found something on the Internet that said, "The human mind can be as stupid as a dog or a cat after all".
My feelings seemed complicated and heavy, but maybe I am as stupid and simple as a dog.
About the Prizes
KCA Kyoto Prize
KCA Encouragement Prize (2 groups)
Audience Prize (Vote from audience including online)
Best Dancer Prize (Award for dancers)
Kogane 4422 AIR Prize
●The following five prizes will be awarded. Kyoto Prize, Encouragement Prize (2 groups) and Best Dancer Prize will be decided by the Award Jury. Please note that there may be no winners.
●The KCA Kyoto Prize and Encouragement Prize winners will have the opportunity to perform / re-create their works in the following year or later at "Choreographers" (a platform for re-staging works at public halls and other venues nationwide)*.
●The Kogane 4422 AIR Prize will be awarded as part of the "Dance de Ikou!" program for the next and following years, and the artist in residence at Dance House Kogane 4422 (Nagoya) will be selected. In addition to support for a space to create a piece, accommodation, transportation, and production expenses, a training program for lighting, sound, production, etc. is planned *.
*Please note, however, that this is subject to change depending on the status of selection by the Agency for Cultural Affairs.
Award Juries
Tatsuro Ishii (Dance Critic)
Eri Karatsu (Executive Producer of Aichi Arts Theatre, Artistic Director of Dance Base Yokohama)
Ikuyo Kuroda (Choreographer, dancer, director of BATIK)
Tadasu Takamine (Director, Visual Artist, Professor at Tama Art University) Misako Terada (Dancer / Choreographer)
Saori Mikami (Producer of Setagaya Public Theatre)
Meruro Washida (Director of Towada Art Center)
Kogane 4422 AIR Award Jury

Nobuyoshi Asai (Choreographer, Dancer, Director of Dance House Kogane 4422)
Click here for application requirements 
https://choreographers.jcdn.org/program/youkou-kca2022
*Japanese only

■Ticket Handling 
<Tickets for the theater> 
Tickets can be purchased at http://confetti-web.com/kyotochoreographyaward2022
or at the ALTI box office (discounts for mates available, tickets available at the box office only, no reservations by phone).
*Tickets are numbered. Admission will be in order of numbers. There is no difference between play guides.
*Electronic tickets (Mobapass) and paper tickets can be selected for Confetti. Paper tickets can be printed out at any Seven-Eleven convenience store nationwide.
*Please be sure to bring your proof of purchase for U25 and disabled ticket holders at the time of admission.
<Online viewing tickets>
ZAIKO https://jcdn22.zaiko.io/item/352523
―――――
[Inquiries] KYOTO CHOREOGRAPHY AWARD Office
Mail: kca★jcdn.org (Please replace ★ with @) Tel: 075-361-4685 (JCDN)
[credit]
Commissioned by the Agency for Cultural Affairs "2022 Project for the Fostering of New Artists for the Next Generation of Culture"
Organizers: Agency for Cultural Affairs / NPO Japan Contemporary Dance Network (JCDN)
"KYOTO CHOREOGRAPHY AWARD 2022"
Kyoto Choreography Award Office: NPO Japan Contemporary Dance Network (JCDN), Dance and Environment
Cooperation: Hokkaido Contemporary Dance Promotion Committee / ST Spot / Dance House Kogane 4422 / NPO DANCE BOX / The Museum of Art, Kochi
Artist / Speaker
アーティスト/スピーカー